Bristol Angling Centre are completely dedicated to your total satisfaction. If you have any suggestions or comments please email [email protected]
Our Contact details:
Bristol Angling Centre
12-16 Doncaster Road, Southmead, Bristol BS10 5PL
Phone: 0117 9500 201
Email: [email protected]
Whatsapp: +44 7762298278
Price Increases
Recently we have received a number of price increases forced on us by our suppliers, these price increases are due to Coronavirus, Brexit, cost of shipping freight and increases in raw materials.
These price increases have come from all our suppliers in a short space of time, to the extent that we have not got enough time to relabel all our stock at the same time. the price on our website is the correct price, should you receive stock that has a lower price on the label than what you have paid, we can only apologies for this and we are working to correct this situation asap.
Product Descriptions / images
We do our best to keep the product descriptions & images as accurate as possible, however the manufactures reserve the right to make alterations / changes as they see necessary "without" any instruction given to us "the retailer". On occasion there may be slight differences in the product that you receive which is out of our control.
Click and Collect
Please place your order on the website, as normal, and then when you get to the Billing Information page just select the Collect in Store option. Your order will be ready to collect within an hour, during a normal working day, Please Note you will receive an email telling you that the order is ready to collect
Please bring your order number and the card you used to pay for the goods.
Somebody else can collect the order for you, but they must have a copy of the confirmation email with the order number and the card used to pay for the goods.
Making A Purchase
Making a purchase could not be easier. Just browse our store, and add any items that you wish to buy into the shopping cart, please make sure you have read the "product" descriptions carefully to be sure you are about to purchase the correct item. After you have finished your selection, click on 'Checkout' and you will be asked for a few details that we need to be able to complete the order.
NOTE :- By placing an order you have agreed to the terms and conditions set out.
We accept the following credit cards and Paypal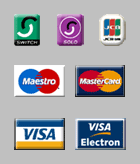 If you are shopping from outside the UK, we accept all the above Credit and Debit cards, the quickest and safest way to pay is by PayPal
When confirmation of order is received, this is to indicate that we have received your order. It does not indicate that a contract exists between us. We will indicate acceptance of your order, and hence a contract between us, when we send you an invoice. We have included this term to protect us in the case that a mistake has been made in pricing, we have inadvertently under-priced goods, or we are no longer able to supply a particular product for some reason. In the case of a change of price, we will always contact you first to ensure that the price is acceptable.
Credit Card Security
When the order is placed at our website, credit card numbers are encrypted using 128 bit encryption. They are only decrypted after they reach our computer. They are not held in clear text on any web site.
If you have a Question
about your order would you please email [email protected] please do not ring the shop as the staff who despatch the orders work different hours to the shop staff.
Please email any questions to [email protected] and you will get a reply, usually within one - two hours - Monday to Friday "Only"
The staff who deal with web orders do not work at weekends or bank holidays.
If you send an email at the weekend you will receive a reply on Monday or a Tuesday after a bank holiday.
Guarantee
We guarantee your satisfaction. All of our products come with a 30 day no quibble guarantee.
Privacy Policy
Bristol Angling Centre do not disclose buyers' information to third parties other than when order details are processed as part of the order fulfilment. In this case, the third party will not disclose any of the details to any other third party.
Cookies are used on this shopping site to keep track of the contents of your shopping cart, to store delivery addresses if the address book is used and to store your details if you select the 'Remember Me' Option. They are also used after you have logged on as part of that process. You can turn off cookies within your browser by going to 'Tools | Internet Options | Privacy' and selecting to block cookies. If you turn off cookies, you will be unable to place orders or benefit from the other features that use cookies.
Children, we do not sell products for purchase by children. If you are under 18, you may use www.bristolangling.com only with the help of a parent or guardian.
We have many thousands of satisfied customers all around the world and a lot of them have written to us to say how delighted they are with the products and our customer service. We want to make sure that YOU are added to that list.
Information we Collect and How we Use it
BAC collects data about your activities that does not personally or directly identify you when you visit our website, the website of entities for which we serve advertisements (our "Advertisers"), or the websites and online services where we display advertisements ("Publishers"). This information may include the content you view, the date and time that you view this content, the products you purchase, or your location information associated with your IP address. We use the information we collect to serve you more relevant advertisements (referred to as "Retargeting"). We collect information about where you saw the ads we serve you and what ads you clicked on.
We do not target ads to you based on sensitive personal data, such as information related to race or ethnic origin, political opinions, religious beliefs or other beliefs of a similar nature, trade union membership, physical or mental health or condition or sexual life. Where permitted by law, we do work with health and fitness companies and may show you more relevant ads based on your perceived interest in these topics.
BAC may target ads based on data provided by Advertisers or partners alone or in combination with the data we collect ourselves. Any data used to serve targeted advertisements is de-identified and is not used to personally or directly identify you. We require third parties, including Publishers, to provide notice and obtain appropriate consent, where required by applicable law.
Third Parties on our Website and our Advertisers Website
In order to allow BAC and our Advertisers to reach the best inventory online, we work with third party advertising companies (our "Advertising Partners") to help us recognize you and serve relevant advertisements to you when you visit a website or online service in their network. We also work with Advertising Partners who help us recognize you across different devices in order to show you relevant advertisements. Our Advertising Partners may collect information about your activities on our website, our Advertisers' websites, and other websites or online services in their networks. We also work with third party companies to assist us with website analytics such as evaluating the use and operation of our website so that we can continue to enhance the website and our services.
How you can Access or Change Your Personal Information
If you are located in the European Economic Area, you may have the right to request access to and receive information about the personal information we maintain about you, update and correct inaccuracies in your personal information and have the information blocked or deleted, as appropriate. The right to access personal information may be limited in some circumstances by local law requirements. You also have the right to opt out, free of charge, from the processing of your personal information for marketing purposes.
User's can simply opt out of future communications by emailing [email protected] and entering GDPR in the subject box.
When using sensitive personal information such as Bank details and credit card numbers we use a secure processing server e.g. Worldpay or Paypal
Right of Access, if you wish to know what personal information we hold about you email [email protected] and enter GDPR in the subject box.
Right to Rectification and Data Quality, if any of the personal data we hold is incorrect email [email protected] and enter GDPR in the subject box and we will amend it.
Right to Erasure, if you would like any of your personal information erased, email [email protected] and enter GDPR in the subject box.
Right to Restrict Processing, if you would like your personal data to be restricted, email [email protected] and enter GDPR in the subject box.
Right to Object, if you would like to object to the processing of your personal data, email [email protected] and enter GDPR in the subject box.
Adroll
We use cookies as part of our online advertising, and use it to show
ads to potential clients around the web. The information that we collect
is non personable and you are free to opt out at anytime though the
following link : http://www.adroll.com/about/privacy
Returns Policy
30 day Returns Guarantee
Our 30-day returns guarantee means that if for any reason you are unhappy with your purchase, you can return it to us in its original condition within 30 days of the date you received the item, unopened (with any seals and shrink-wrap intact) .We can only accept the return of opened items if they are faulty. The cost and responsibility of returning these goods to be borne by the customer.
Items purchased in store that develop a fault or you are not happy with in some way must be brought back to the store for rectification. I.E replacement / refund.
If you cannot get back to the store then you may post/ship it back but the costs to borne by you.
Specific rules apply regarding refunds of delivery charges.
When returning goods to us please enclose a completed, printed copy of our Goods Return Form.
What to do if you need to cancel an order placed online :- You must email us and put this in writing asap, we cannot cancel orders via the telephone.
If the order has already shipped then you will have to return them to us before we can do any refund / exchange, please see Returns page for info.
When contacting us about returns, faulty goods etc, please use email [email protected], that way we have an email trail which makes it easier to sort out problems.
Damaged or Faulty Goods
In the event of bristolangling.com sending you a replacement for a damaged, defective or wrong item, you must return the item to bristolangling.com within 14 days of the product being received and all carriage will be paid.(Please check with us before returning any goods as we will only refund the basic postage charge). bristolangling.com reserves the right to charge the price of the replacement item to the payment card used for the original order if you do not return the original item to us within 14 days of the date on which bristolangling.com confirms we will issue a replacement.
Manufacture Warranty Claims (out of the 30 day return period)
If a product has become faulty or defective after the 30 day return guarantee, it is classed as a "manufactures warranty claim" (providing it is in the manufacture warranty time).Bristol angling will act on behalf of the customer with the manufacture to resolve the issue.
Ultimately the manufacture will decide whether a repair/ new part or replacement will be issued. The manufacture also could refuse the claim due to misuse, however that is down to them. We will always try to sort issues on email before having the product returned, so please email [email protected] with detailed images/video and a copy of the original order with order number.

Delivery charges from consumer to retailer (Bristol angling) and from retailer to consumer are to be paid by the consumer. (Bristol angling are not liable for these charges)

If you are trying to return a large/long item and are struggling to find a cost-effective solution, we may be able to help. We can get long boxes and large boxes collected for £40 (UK mainland) (consumer is to pay this before collection arranged)
When returning goods to us please enclose a completed, printed copy of our Goods Return Form.
Goods Return Form
When contacting us about returns, damaged goods etc. please use email as that way we have an email trail that makes it easier to sort out problems.
This returns policy does not affect your statutory rights
Note:- Goods purchased in store will need to be brought back to the store for exchange or refund. If for any reason you cannot get back to the store and require a collection then this will be chargeable and will be dependant on location if it can be arranged.
Finance Information
Credit subject to status and affordability. Terms & Conditions Apply. Bristol Angling Centre trading as Bristol Angling Centr ltd is a credit broker and is Authorised and Regulated by the Financial Conduct Authority.
Credit is provided by Novuna Personal Finance, a trading style of Mitsubishi HC Capital UK PLC, authorised and regulated by the Financial Conduct Authority. Financial Services Register no. 704348.
Finance FAQ
How do I choose to PaybyFinance?
Just select the finance option on the checkout page.
Who is eligible to apply for online finance?
To apply for online finance, you must be over the age of 18, work at least 16 hours a week, or be retired with an income. You must also be a resident of the United Kingdom and have lived in the UK for the last 12 months or more.
Unfortunately, we are unable to offer online finance to residents of Eire. Homemakers aren't excluded from applying under their own names; however the employment details of your spouse / partner will be required in order to process your application.
When do my repayments start?
Your monthly repayments will begin one month after your purchase has been delivered. For Buy Now Pay Later agreements the monthly repayments will start 12> months after the agreement has been signed.
Are there any arrangement fees or hidden extras for credit?
No. There are no arrangement fees or hidden extras.
Applying for online finance
Applying for online finance couldn't be easier or more convenient. When you buy online from Bristol Angling Centre ltd you have the choice of applying for finance by adding your purchase to the shopping basket, selecting the finance option, and completing an online application form. Just follow the simple instructions, entering your personal details as required and we'll do the rest.
The whole process only takes a few minutes and is simple and secure. Once your finance application is approved, you will then be advised of how to sign the finance agreement and you will also receive an email confirming these details.
Please read the agreement carefully checking that all the details are correct, then either electronically sign the agreement or print and sign the agreement in both boxes. Post the signed agreement to the address shown on the covering letter of the agreement.
Following receipt of your finance agreement and a few additional checks, your goods will be dispatched.
How quickly will my finance application be approved?
All finance decisions will be made within 60 seconds. Once you are approved, we will contact you (during working hours Monday to Friday) to arrange delivery. If you your application is referred Novuna's Underwriting Team will review your application and may request some further information from you before making their decision.


Once my application is approved, what happens next?
Within minutes of your application being approved, you will be presented with the options to either e-sign or print and return your finance agreement.
If you choose to e-sign your agreement, a PDF of your agreement will be displayed on screen. You should read the agreement carefully before clicking all the relevant sections agreeing to its terms.
Once you have agreed to the terms of the finance agreement Bristol Angling Centre ltd will be notified and you need do nothing more.
If you choose to print and return your agreement you should print the agreement, read it carefully and then sign the document following the instructions on the covering letter. This signed document should then be posted to the address shown on the covering letter of the finance agreement.
Note that products will not be allocated to your order until your completed and signed agreement is returned and received by Novuna Personal Finance. Shipment of your goods will follow soon after your agreement has been returned and received.
Will you credit score me and if so, what does this mean?
Credit scoring is the process used by financial services companies to evaluate the credit risk of new applicants. This technique will be applied to your application for online finance. Credit scoring works by awarding points for each answer given on the application form such as age, income and occupation, together with information obtained from credit reference agencies.
This information allows consistent decisions to be provided, ensuring all applicants are treated fairly. Credit scoring does not discriminate on the grounds of sex, race, religion or disability.
If you decline my application, what is the reason?
In addition to credit scoring, Novuna also takes into account confirmation of your identity, validation of certain application details, existing commitments and information held at the credit reference agencies. Though Novuna is unable to provide you with a main reason for declining your application, it is usually based on one, or a combination of the following:
Your credit score (please note that every finance company will score you differently)
Adverse credit reference agency information
You are considered to be overcommitted
You are aged under 18
Your existing account performance with other lenders
What type of information do credit reference agencies hold about me?
Some of the information is public information, for example electoral roll, County Court Judgments and bankruptcies. Other lenders may also file information about accounts you hold with them for instance this could include your payment history and outstanding balance on these accounts. Any requests for credit, where a credit reference search has been undertaken, will also be filed, although the result of the request is not recorded.
How do I obtain a copy of this information?
Send a request to the relevant credit reference agency, together with details of all addresses at which you have lived over the last 6 years:
Experian Limited, Customer Support Centre, PO Box 9000, Nottingham, NG80 7WF
Equifax Ltd., Customer Service Centre, PO Box 10036, Leicester, LE3 4FS
TransUnion International UK Limited, Consumer Services, PO Box 491, Leeds, LS3 1WZ
The above listed agencies will provide details of information relating to these addresses. If you believe that the information is incorrect, you can ask the agency to correct it.
If my application is not successful, can I re-apply?
Yes. We acknowledge that circumstances change and just because a previous application has been refused, it does not mean that a further request will automatically be turned down. We do suggest however, that you leave at least 6 months between applications.
Can I request delivery to an address other than my home?
In order to safeguard against fraudulent applications, we regret that we're able only to deliver goods to the home address of the applicant.
What is APR and Rate of Interest?
The 'rate of interest' is the cost you will pay each year to borrow the money, expressed as a percentage rate. It does not reflect fees or any other charges. The 'APR' is a broader measure of the cost of borrowing than the interest rate. The APR reflects the interest rate, and other charges that you pay to get the loan. The FCA description of any APR is "APR stands for the Annual Percentage Rate of charge. You can use it to compare different credit and loan offers. The APR takes into account not just the interest on the loan but also other charges you have to pay, for example, any arrangement fee. All lenders have to tell you what their APR is before you sign an agreement. It will vary from lender to lender.
Complaints
On the rare occasion that we do receive a complaint, we take it very seriously. If you are unhappy with the any aspect of the goods you purchased with us you may contact us in any way you prefer. Our contact details are as follows;
Phone:
Email:
If your complaint relates to your finance agreement
If your complaint relates to the finance linked to your purchase you can still let us know about this, but we will forward it on to your credit provider Novuna. Novuna will acknowledge your complaint and investigate it thoroughly and issue their response within eight weeks.
What to do if you can't reach an agreement
If you are not satisfied with Novuna's response to your complaint relating to the finance agreement, you may be able to refer the matter to the Financial Ombudsman Service. You must contact them within six months of the date of Novuna's final response letter to you.