Terms and Conditions
Bristol Angling Centre are completely dedicated to your total satisfaction. If you have any suggestions or comments please email us using the Contact Us tab above.
Our Contact details:
Bristol Angling Centre
12-16 Doncaster Road, Southmead, Bristol BS10 5PL
Phone: 0117 9500 201
Email: sales@bristolangling.com
Click and Collect
Place your order on the website, as normal, and then when you get to the Billing Information page just select the Collect in Store option. Your order will be ready to collect immediately during normal shop opening hours.
Please bring your order number and the card you used to pay for the goods.
Somebody else can collect the order for you, but they must have a copy of the confirmation email with the order number and the card used to pay for the goods.
Making A Purchase
Making a purchase could not be easier. Just browse our store, and add any items that you wish to buy into the shopping cart. After you have finished your selection, click on 'Checkout' and you will be asked for a few details that we need to be able to complete the order.
We accept the following credit cards and Paypal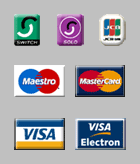 If you are shopping from outside the UK, we accept all the above Credit and Debit cards, the quickest and safest way to pay is by PayPal
When confirmation of order is received, this is to indicate that we have received your order. It does not indicate that a contract exists between us. We will indicate acceptance of your order, and hence a contract between us, when we send you an invoice. We have included this term to protect us in the case that a mistake has been made in pricing, we have inadvertently under-priced goods, or we are no longer able to supply a particular product for some reason. In the case of a change of price, we will always contact you first to ensure that the price is acceptable.
Credit Card Security
When the order is placed at our website, credit card numbers are encrypted using 128 bit encryption. They are only decrypted after they reach our computer. They are not held in clear text on any web site.
If you have a question
about your order would you please email paul@bristolangling.com please do not ring the shop as the website orders are despatched from a separate location and the warehouse staff work different hours to the shop staff. Email any questions to paul@bristolangling.com and you will get a reply during the working week, ie Monday to Friday, the staff who deal with web orders do not work at weekends or bank holidays.
Guarantee
We guarantee your satisfaction. All of our products come with a 30 day no quibble guarantee.
Reaching Us
If you need to reach us, Bristol Angling Centre, 12-16 Doncaster Road, Southmead, Bristol, BS10 5PL, England.
Privacy Policy
Bristol Angling Centre do not disclose buyers' information to third parties other than when order details are processed as part of the order fulfilment. In this case, the third party will not disclose any of the details to any other third party.
Cookies are used on this shopping site to keep track of the contents of your shopping cart, to store delivery addresses if the address book is used and to store your details if you select the 'Remember Me' Option. They are also used after you have logged on as part of that process. You can turn off cookies within your browser by going to 'Tools | Internet Options | Privacy' and selecting to block cookies. If you turn off cookies, you will be unable to place orders or benefit from the other features that use cookies.
We have many thousands of satisfied customers all around the world and a lot of them have written to us to say how delighted they are with the products and our customer service. We want to make sure that YOU are added to that list.
Information We Collect and How We Use It
BAC collects data about your activities that does not personally or directly identify you when you visit our website, the website of entities for which we serve advertisements (our "Advertisers"), or the websites and online services where we display advertisements ("Publishers"). This information may include the content you view, the date and time that you view this content, the products you purchase, or your location information associated with your IP address. We use the information we collect to serve you more relevant advertisements (referred to as "Retargeting"). We collect information about where you saw the ads we serve you and what ads you clicked on.
We do not target ads to you based on sensitive personal data, such as information related to race or ethnic origin, political opinions, religious beliefs or other beliefs of a similar nature, trade union membership, physical or mental health or condition or sexual life. Where permitted by law, we do work with health and fitness companies and may show you more relevant ads based on your perceived interest in these topics.
BAC may target ads based on data provided by Advertisers or partners alone or in combination with the data we collect ourselves. Any data used to serve targeted advertisements is de-identified and is not used to personally or directly identify you. We require third parties, including Publishers, to provide notice and obtain appropriate consent, where required by applicable law.
Third Parties on our Website and Our Advertisers' Websites
In order to allow BAC and our Advertisers to reach the best inventory online, we work with third party advertising companies (our "Advertising Partners") to help us recognize you and serve relevant advertisements to you when you visit a website or online service in their network. We also work with Advertising Partners who help us recognize you across different devices in order to show you relevant advertisements. Our Advertising Partners may collect information about your activities on our website, our Advertisers' websites, and other websites or online services in their networks. We also work with third party companies to assist us with website analytics such as evaluating the use and operation of our website so that we can continue to enhance the website and our services.
How you can access or change your personal information
If you are located in the European Economic Area, you may have the right to request access to and receive information about the personal information we maintain about you, update and correct inaccuracies in your personal information and have the information blocked or deleted, as appropriate. The right to access personal information may be limited in some circumstances by local law requirements. You also have the right to opt out, free of charge, from the processing of your personal information for marketing purposes.
User's can simply opt out of future communications by logging into there account and selecting the Opt out of further communications button.
When using sensitive personal information such as Bank details and credit card numbers we use a secure processing server https://www.realexfire.com/
ADROLL
We use cookies as part of our online advertising, and use it to show
ads to potential clients around the web. The information that we collect
is non personable and you are free to opt out at anytime though the
following link : http://www.adroll.com/about/privacy
Waste Batteries Regulations
Under the Waste Battery Regulations, Bristol Angling Centre are now offering a take back scheme for all portable waste batteries. You can return your waste batteries to our business premises in person (please do not post..
Alternatively, you can find your local waste portable battery recycling facility at www.recyclenow.com
Most supermarkets and shops that sell batteries will have collection bins for used batteries, and some town halls, libraries or schools may also set up collection points.
End-users may find stores in their local area more accessible.
WEEE Regulations (Waste Electrical and Electronic Equipment)
If you're buying a new electrical item, we will recycle your old one for free.
Please do not throw electrical equipment (including those items marked with the crossed out wheeled bin symbol) in your bin. Unwanted electrical equipment is the UKs fastest growing type of waste. Many electrical items can be repaired or recycled, saving natural resources and the environment. If we do not recycle electrical items they will end up in landfill where hazardous substances will leak out and cause soil and water contamination – harming wildlife and also human health. The Waste Electrical and Electronic Equipment (WEEE) Directive requires countries to maximise separate collection and environmentally friendly processing of these items. In the UK, distributors including retailers must provide a system which allows all customers buying new electrical equipment the opportunity to recycle their old items free of charge. As a responsible retailer, we have met the requirements placed on us by offering al customers buying new electrical equipment free take-back of their old electricals on a like-for-like basis in our stores. Unwanted items should be returned within 28 days of purchasing your new product.
Returns Policy
30-day Returns Guarantee
Our 30-day returns guarantee means that if for any reason you are unhappy with your purchase, you can return it to us in its original condition within 30 days of the date you received the item, unopened (with any seals and shrink-wrap intact) .We can only accept the return of opened items if they are faulty. The cost and responsibility of returning these goods to be born by the customer.
Specific rules apply regarding refunds of delivery charges, giftwrapping and other services.
When returning goods to us please enclose a letter with goods explaining the problem and provide your name and address, contact details and order number.
When contacting us about returns, faulty goods etc please use email.
Damaged/Faulty Goods
In the event of bristolangling.com sending you a replacement for a damaged, defective or wrong item, you must return the item to bristolangling.com within 14 days of the product being received and all carriage will be paid.(Please check with us before returning any goods as we will only refund the basic postage charge). bristolangling.com reserves the right to charge the price of the replacement item to the payment card used for the original order if you do not return the original item to us within 14 days of the date on which bristolangling.com confirms we will issue a replacement.
If you have a question
about your order would you please email neil@bristolangling.com please do not ring the shop as the staff that despatch the orders work different hours to the shop staff. Email any questions to neil@bristolangling.com and you will get a reply within the hour during the working week, ie Monday to Friday, the staff who deal with web orders do not work at weekends or bank holidays.
If you have a product from us which is is faulty and it is out of our 30 day guarantee, but under guarntee with a Manufactor we will happily change it for you but the postage and packaging will be chargable to and from us bristolangling.com. (please note on any exchange/refund you must be able to provide bristolangling.com with proof of purchase ie order number to apply)
When returning goods to us please enclose a letter giving us the following information, order number, contact details and reason for return.
When contacting us about returns, damaged goods etc please use email.
This returns policy does not affect your statutory rights.