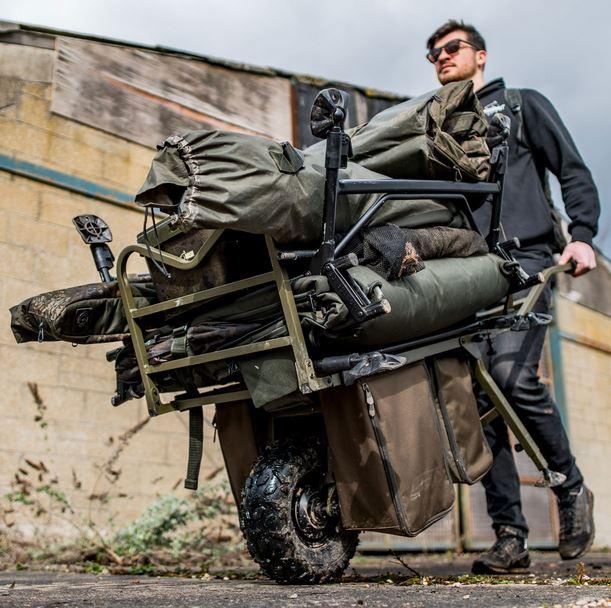 Best Carp Barrows
As Carp anglers, we tend to take a lot of large heavy items such as Bivvies, Bedchairs, and Rod Holdalls when we go fishing. Therefore the use of a barrow is often essential to get our kit round to the chosen swim. Without a barrow this can be a very difficult and time consuming task, especially when fishing on big waters. Here at Bristol Angling Centre well sell a huge range of Carp Fishing Barrows and accessories, all of which are designed to make transporting your gear as easy as possible, meaning you won't hesitate to move onto those fish showing up the other end of the lake!
Choosing a Carp Barrow
When it comes to choosing a barrow, there are a few things to consider. such as the types of venue you are likely to be fishing, and most importantly the amount of fishing tackle and luggage you are going to be bringing with you. For example if your an angler who just fishes day sessions on small to medium sized waters, then a standard single wheel barrow should suit you fine. However if you find yourself fishing on larger lakes where a hefty walk is often required, or if you plan on fishing longer sessions and will therefore need to take more with you, then its worth looking at investing in a larger sized or electric power barrow. Having a decent barrow will make your life so much easier when it comes to being mobile.
Nash Trax Power Barrows
As you would expect from a company such as Nash who have been one of the leading innovators in the Carp Fishing Tackle scene for a number of years, these barrows showcase quality all round with some thoughtful and practical additions to make transporting your gear less effort and more convenient. If  your an angler who takes a lot of kit, or one who fishes big lakes, or just someone looking to get the most out of their angling by being mobile, then the Nash Trax Power Barrows are perfect for you.  There are two barrows in the range, the Trax Evo and the Trax Metro power barrows. Both benefit from 150-watt 24-volt lead-acid batteries, which propel the barrow to your chosen swim. The frames on each model are based around the widely popular Evo and Metro MK2 barrows, with wiring that is internal to the frame and a fully waterproofed control box. This ensures continued performance in any climate. Both the Trax Power Barrows come supplied with three zipped under barrow storage bags which have side access, a mains charger, battery bag and the rear wheel kit. To find out more about the individual features of each barrow click below.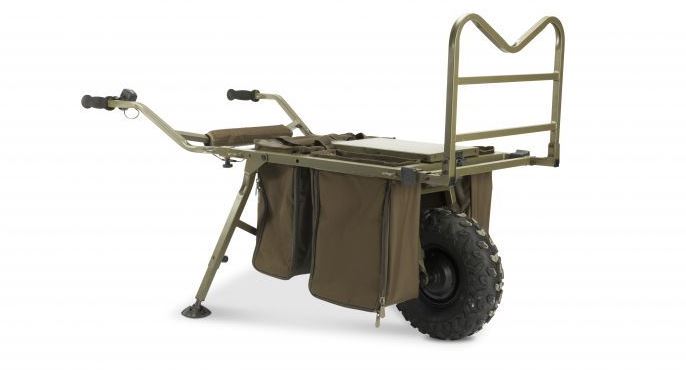 Fox Explorer Barrows
There are two sizes available in the popular Fox Explorer Barrow range, a standard and deluxe version. Both models are packed full of helpful features and are made from hi tensile steel frames which makes them super robust and sure to stand the test of time. The standard Explorer Barrow features a compact design that will fit neatly into your car. It comes with 2 x Fox FX Universal barrow straps that attach to the attachment points on the barrows frame, a drop in camo barrow bag with top and side zipped access,  and 2 x mesh pockets with side access zips. Camolite Storage Bags and Camolite Cool Bags are compatible but are an optional extra. The Deluxe Explorer barrow has a longer ergonomically shaped design, with wider compartments and mesh pockets. These mesh pockets are positioned either side of wheel and are perfect for carrying essentials such as water bottles. Both models have an extendable front barrow rack to allow you to carry more gear when fishing on longer sessions, and have swiveling mud feet with spiked bases to make them super stable. For more information click on the links below: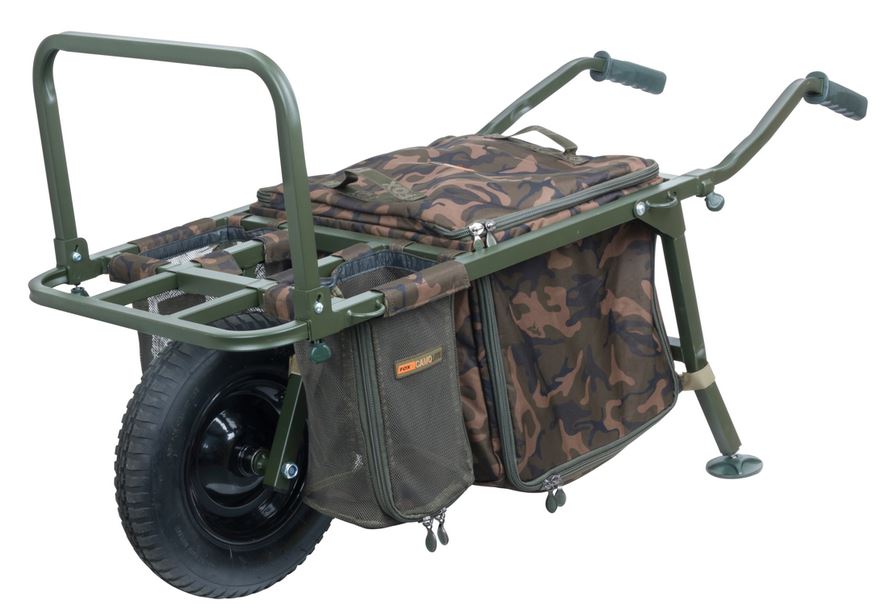 Trakker X Trail Galaxy Barrow
The Trakker X Trail Galaxy Barrow features a low centre of gravity to make it more balanced during loading and when in use. It comes with a mud guard which helps keep your tackle clean when traveling over dirty ground, meaning no more mud on your sleeping bag!.  Made using a super strong steel and aluminium construction, these barrows have a compact lightweight design which will fit into even the smallest of cars. They come with a spacious storage bag with straps to retain the handles. The pushing angle combined with the ergonomic soft grip handles makes carrying heavy loads easy and comfortable. This barrow is a great all-rounder, perfect for young anglers or those who like to keep all their kit as minimal as possible. For more information click the link below: