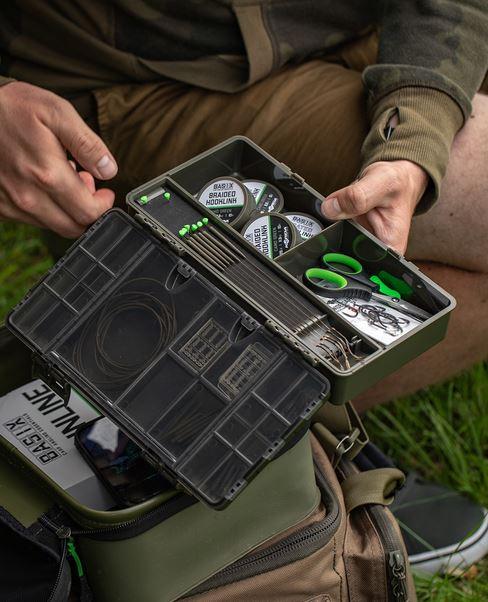 Carp Fishing on a Budget - Korda Basix Range
The Basix range has been designed to cater for carp anglers on a budget, with the emphasis being on providing high quality products, which will catch fish, but at a price that anyone can afford. Korda wanted to create a range of tackle to offer new anglers or those who don't get the chance to go fishing as often with the option to buy cheaper items such as reduced length spools of braid, lead clip kits, and sharp hooks with longer lasting points that enable you to catch multiple fish on them, saving you money. Even if you're an experienced angler, all the products in this extensive range are made with quality components, so are more than capable of catching carp from even the toughest of waters. From ready tied rigs, hooks and hooklink's, to fish care equipment and tackle boxes, the Basix range allows you to get Carp Fishing effectively, but won't cost you anywhere near as much.
Basix Tackle Box
This is a true tardis of a tackle box made from quality materials and is the perfect solution for storing small tackle items and accessories, such as rig tools and terminal tackle, and has a removable rig tray for storing up to 8 pre tied rigs
The box itself is made from a shockproof, high impact plastic, with a translucent lid to enable you to see inside. The lid features a ruler to allow you to accurately measure your rigs and is fastened via two latch closures to prevent any chance of it coming open during transit.
Inside the lid of the tackle box are 21 small latched compartments of various sizes, which are perfect for storing item such as lead clips, swivels and other end tackle components. Inside the box are two large compartments with five fixed dividers, perfect for housing rig tools, hook link spools and other similar items.
Korda Basix Tackle Box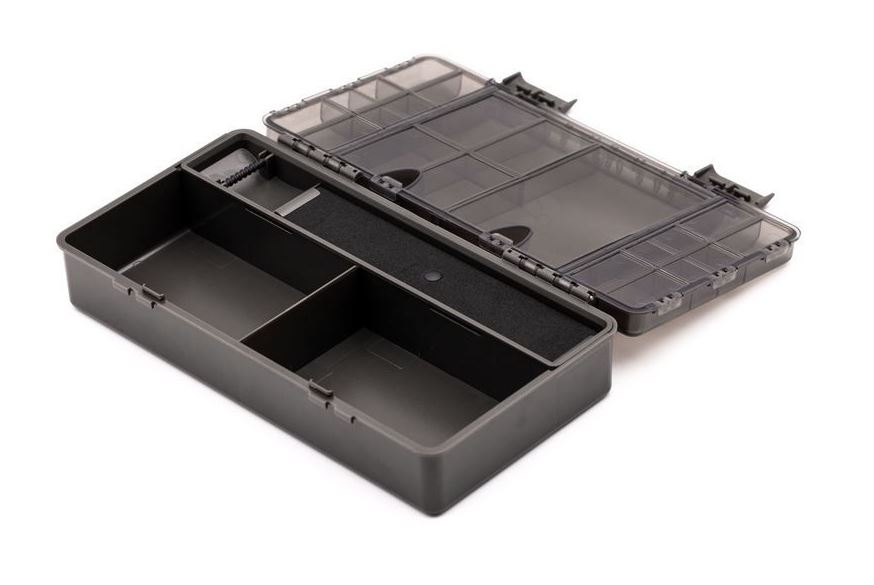 Basix Main Line
This high performance line designed to be spooled onto your reel, is a superb all rounder and will cover you in most fishing situations you are likely to encounter. It is super abrasion resistant and tough, but also casts very well and has good knot strength, making it the perfect line choice. It has a relatively low level of stretch which helps when it comes to feeling the lead down. This line is finished in a camo green colour so it will blend in well with any lakebed, and comes in 1000m spools.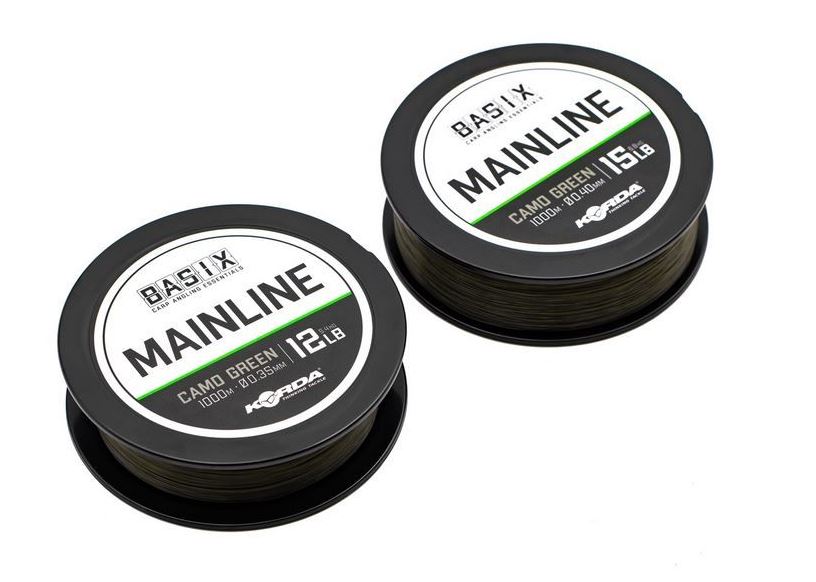 Basix Hooklink Materials
There are two hooklinks in the Basix range, a soft, supple braid perfect for PVA bag fishing, and a soft Coated braid which lends itself to a huge variety of presentations, be it bottom baits, wafters or pop ups. Both hooklinks are finished in a subtle camo green colour which is designed to blend in with any lake bed. They both come in 10M spools which is plenty enough to tie loads of rigs and will last you ages, particularly if you're an angler on limited time. There are multiple breaking strains available so to find out more about each version click on the links below.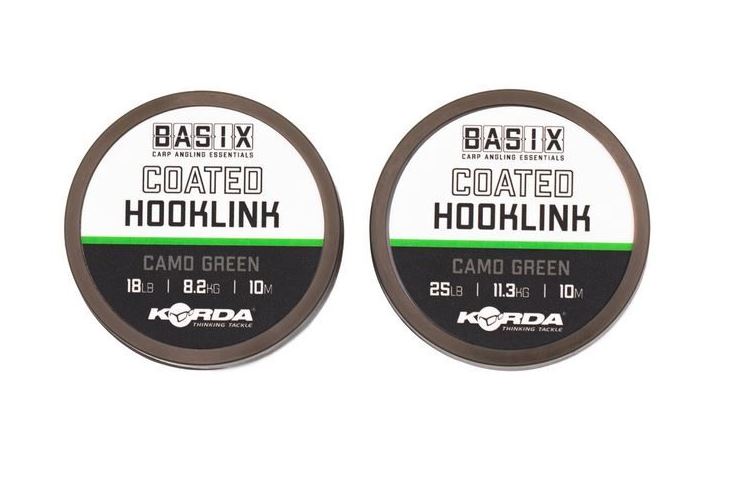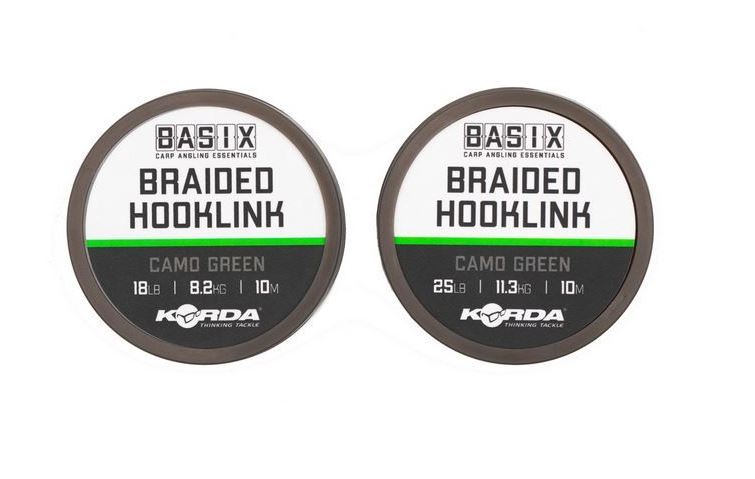 Basix Hair Rigs Wide Gape
These pre tied hair rigs are ready to use straight out of the packet, simply attach either a bottom bait or balanced wafter and your ready to go! The rigs are made using the subtle green camo coloured Basix Coated Hooklink material and super sharp Korda Basix Wide Gape Hooks. Its worth mentioning the hooks as they are made with super durable points, enabling you to catch multiple fish with each hook, and have an aggressive in-turned eye which means they are super effective even without the use of any shrink tube. The Basix hair rigs are finished with a small section of the coated braid stripped back by the hook to allow for maximum movement which increases the hooking potential of the rig, and are finished with a Korda Basix Anti Tangle Sleeve to help prevent any tangles, so you can relax on your Carp Fishing Bedchair safe in the knowledge that your rigs are fishing effectively.
They have a supple hair with a piece of silicone to hold it in place on the shank of the hook and to stop hair tangles on the cast, with the length of the hair being optimized for hookbait sizes which suit the size of the hook you have chosen. For more information click the link below.
Korda Basix Hair Rigs Wide Gape
Basix Distance Sticks
The Basix distance sticks will ensure you can get your rods on the exact same spot each cast, allowing you to spod accurately and pinpoint small clear spots. They have a stainless steel point to allow them to be easily pushed or screwed into the ground, a T-bar is also supplied to ensure you can always get them in should you be fishing on rougher terrain. The distance sticks also come with a 12ft green cord to ensure that they are exactly the same distance apart every time.
They are made from a stylish grey anodized aluminum with bright green caps for increased visibility, which is very useful in low light or when using a head torch at night. The caps can be unscrewed so that the T-bar can be stored inside to ensure it is not lost. For more information click below.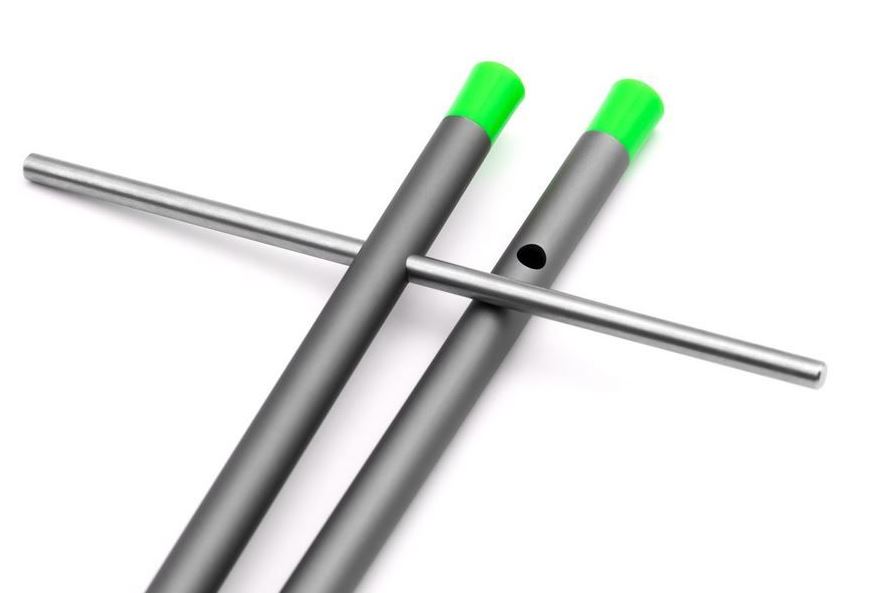 Basix Carp Cradle
Fish care is super important no matter what level of carp fishing you are at, so Korda have brought out the Basix Carp Cradle to provide protection for your catch whilst still maintaining practical and easy to use. It is made from 50mm padded foam which provides plenty of cushioning for the fish, with a waterproof outer layer that is super fish friendly and wont remove its protective slime, and has padded walls to ensure the fish is super secure once inside.
When not in use the Cradle can be folded in two for easy transport on your Carp Fishing Barrow and storage, with carry handles which can also be used to peg it down once you are settled into your swim to ensure it does not blow away.