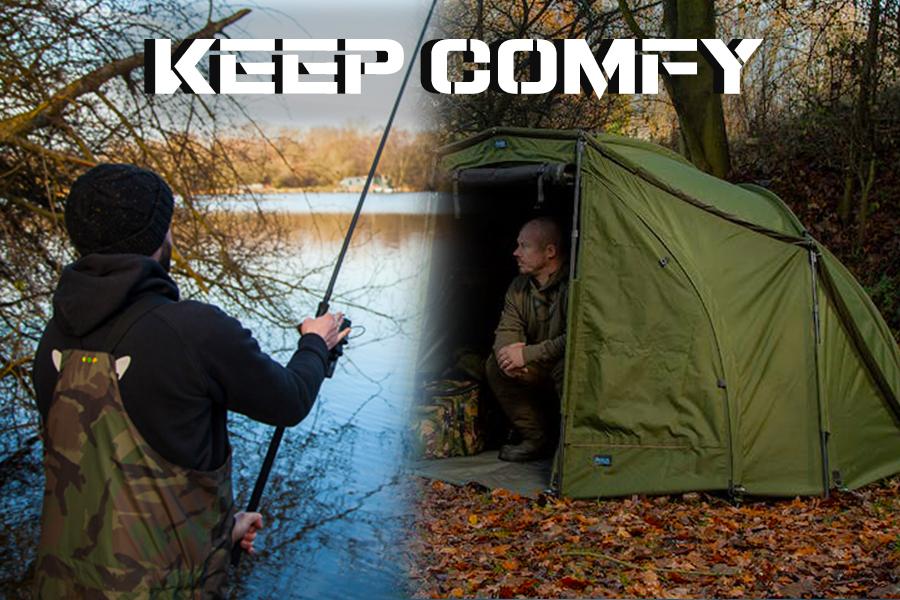 Keeping comfy whilst fishing can be an advantage, especially throughout winter months! During the colder months conditions can be a lot harsher with the cold meaning it is more important to keep your self comfy during this time. If you get too cold then you are less likely to enjoy your fishing after all!
Clothing
Obtaining a good set of waterpoofs will enable you to keep dry during wet conditions. There is nothing worse in winter than having to run outside the shelter in the rain to play a fish. Once you're wet it makes it even harder to warm back up and keep comfy. Be sure to chuck your waders and a waterproof coat on before picking the rod up if its pouring, it could save you from catching a cold!
During December, Janurary and Febuary temperatures can get below 0 degrees. With this in mind be sure to have suitable clothing to withstand these temperatures. Beanies are must when you consider the average person looses 80% of body temperature through their head. Thick warm winter coats are the ultimate as well, being wind proof and offering protection from the cold like no other! Double up on socks and wear warm footwear to save your feet becoming too cold as well! Cold feet are uncomfy and are very hard to warm up as they are the clostest thing to the ground.
Food
Be sure to take warm food and a warm drink. Having this will keep your body temperature nice and warm meaning you are going to have more energy when fishing. This will mean you're going to be more active with your fishing which can result in more fish on the bank!
Keeping Warm at Night
The night is when it really gets cold, however there are a couple of things you can have to keep warm. A 5 season sleeping bag will keep you warm throughout the night especially when coupled with a hot water bottle.
Groundsheets, waterproof infills and overwraps also keep your brollie/brivvie extra warm. A groundsheet stops the heat from escaping underneath as well as reduces condensation.
If you keep comfy on the bank over the winter periods, it can definetly aid your angling. You'll have more energy from being warm and mostly, you'll enjoy your angling a lot more which will keep you motivated to go fishing!