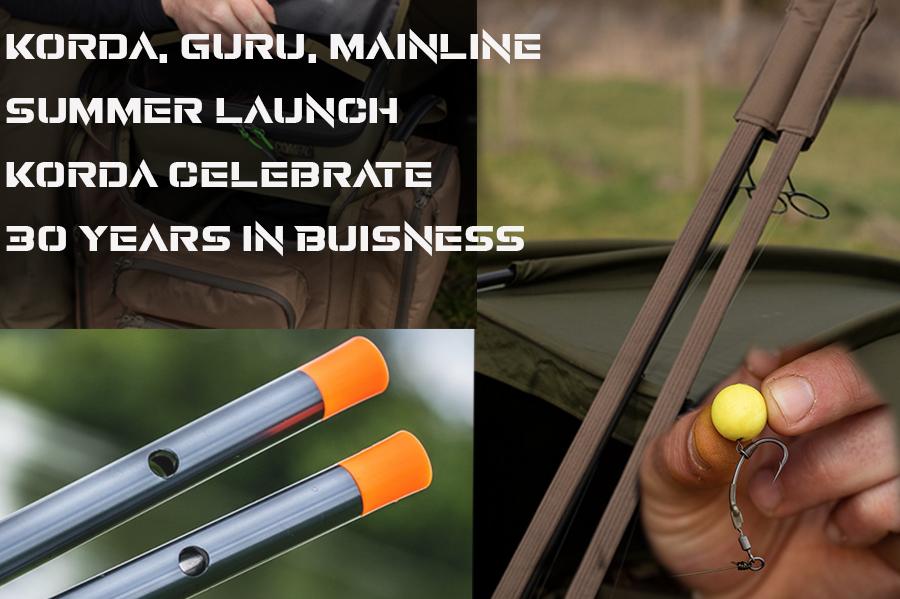 Korda have always been one of the leading maufacutures when it comes to carp fishing products. Focusing on releasing quality and well developed products, it is no surprise that they have earnt that reputation. Recently, Korda have just celebrated being in buisness for 30 years, a milestone for any company out there, this really shows Korda's success over the their time as a business and it's well deserved!
Danny started in 19992 by making and selling leads, before ringing NatWest to found the famous Korda Developments. During 1993, Danny took Korda to their first carp fishing show and made a massive profit of over £1000 on the Tackle Box stand. For a profit of this big for a company what has only just started, Korda have been selling quality and innovative products since day one, and due to this it is no surpire that they are still in buisness and still making quality products today!
Carp Fishing legend Damian Clarke joined the company in 2001 shortly before the company going limited limited. This same year, the branding legend John Hannent completely restyled their logo as welll as the brand identity, creating a truly unique and recognisable brand. 2003 was a massive year for Korda, with Danny and Damian winning the British Carp Championships. The first release of the Skyliner Spods where also released this year as well as the Wide Gape and Longshank hooks and the first Underwater DVDs which completely changed carp fishing filmmaking forever.
During 2005, the pace of Korda was at the highest it had been, Ali Hamidi joined to head the new marketing department and from this Korda's carp fishing influence spread across to other countries, which founded Korda Europe. Ali's influence and connections quickly effected Korda, as the first Thinking Tackle carp fishing shows hit the Sky Sports screens in 2006, setting the benchmark for carp-fishing broadcasting. Korda's Carp Academy, also kicked off; giving eager youngsters a solid grounding in carp-fishing techniques.
In 2009, Korda released their sister brand Guru, for dedicated match and coarse anglers. There was the the release of the Krusha – one of the best-selling carp fishing products ever! Just a year later, the company outgrew its home in Romford, moving to brand-new premises in Basildon where they had more space to continue developing their products.
Ever since, Korda had constantly been testing the boundaries whilst it comes to quality and innovative products. With now a variety of products for all carp anglers available from Korda. There is the Basix range which is aimed at anglers getting into the sport who need to buy kit without breaking the bank, this included everything from Hooks, Ready tied rigs, Bobbins, Mainline, Scissors and Needles and even a Cradle. Then there's products for the anglers who fish harder lakes, and want to take their fishing to the next level such as the legendary Kamakuru Hooks, the Stow Bobbins, the infamous Heli-Safe, and not forgetting the Tackle Box, one of the most practical and compact boxes on the market, but still has plenty of room for all of your tackle!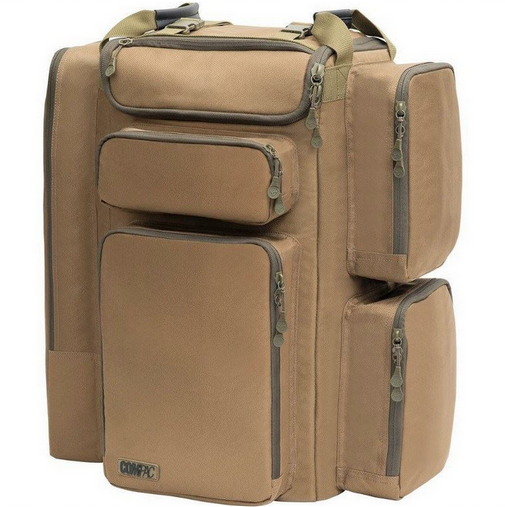 The latest rucksack from Korda is designed in such a way where you can make the most out the space available. Designed as part of the Compac range, this rucksack features side pockets which are perfect fit for the Compac 100, 110 and 125 EVA pouches, as well as the front pocket which the Korda Tackle Box fits perfectly into.
The rucksack also features an internal zipped pocket, which is perfect for storing your wallet, keys, membership tabs or any other important pocket sized items. With reinforced carry handles and water-resistant fabric, this rucksack is definitely going to last the test of time.
Tip and Butt Protectors are very useful for keeping your rod sections together in transport to minimise the risk of damage. These Elasticated Tip and Butt Protectors are very versatile. They are able to retain rods 10ft-13ft which is very impressive for a rod retention product. They are perfect to be used alongside the Compac Rod Holdall.
Anglers who use Micro Ring Swivels or Bait Screws, this is a product for you. The Korda High Grip Hook Beads are perfect for when you are using a medium micro ring swivel or a medium bait screw swivel. The increased surface area of the bead ensures that more of the bead is in contact with the shank of the hook which stops the bead from slipping when you're fishing with big hook baits at long range.
Korda's latest Tail Rubbers are perfect for fishing with zig rigs when using a lead clip. Perfect for avoiding tangles when casting out long hook links.
Traditionally when using a standard tail rubber and no tubing, the difference in diameter can cause the zig rig to tangle around the mainline. These specially designed Naked Tail Rubbers have a long tail that tapers down to a tiny bore, creating a seamless join to the main line. These can be used will all lead clips including Hybrid lead clips.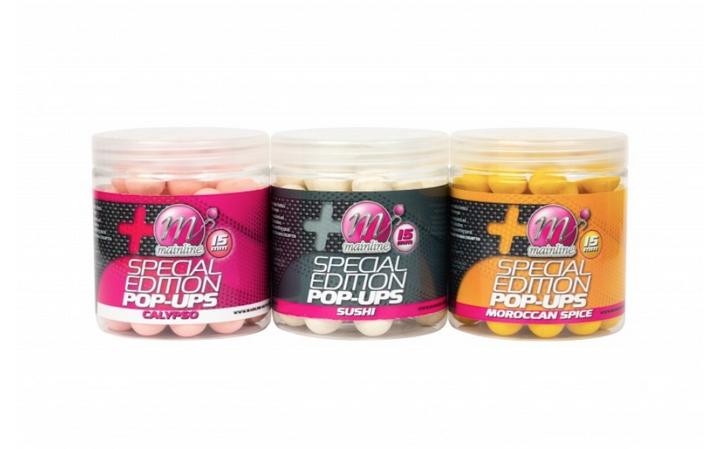 Mainline have released their Special Edition Pop Ups for 2022, featuring Calypso, Sushi and Moroccan Spice Blend, there is a flavour to suit all anglers who like a fishy flavour, fruity flavour or something a touch more experimental. These pop-ups come in 15mm size and provided in a 250ml tub.

Guru's Distance Stick is something of a work of art, built out of super strong but lightweight aluminium, these distance sticks feature grooves in them which prevents line from spilling of the sticks. This is a very practical feature as there is nothing more annoying than having line falling off your distance sticks and creating a birds nest. Included in the Guru Distance Sticks is a 6" Tommy bar which is a game changer when trying to put your distance sticks in the ground. As well as this, the Distance Sticks also feature a bright orange cap so they are less likely to blend into the environment of where you are fishing. This ensures that you can clip your rod up as quick as possible.
2 meter and 3 meter measuring cords are also included with the Guru Distance Sticks to make sure that your distance sticks are the same width apart every time you use them. As as some people like to use their rod to mark the distance between their sticks, it is a lot more accurate to use the cords.