Preston Innovations are one on the leading tackle companies in match and coarse fishing. Founded in February, 1997, the company have been providing high quality product for anglers across the world, and still to this day, their products are unique to anglers and remain high quality. Preston have always offered a massive range of products, suited for many styles of angling from the casual angler to serious match anglers. They have a very strong team of anglers like Des Ship, Lee Kerry, Neil McKinnon, and Andy Findlay who are all involved and regular to product development meetings, meaning every product is developed with an input from match winning professionals.
Since its lauch, it's been near impossible to keep the standard Roller Pulla Bush on our shelves! With lakes now holding bigger fish than before, the demand for stronger tackle has never been so high. The XL Roller Pulla Bush features a larger internal PFTE bore allowing it to accommodate the thickest of elastics, while still maintaining the ultrasmooth, friction free system you'd expect. The Roller Pulla Bush not only centralizes the elastic in the top kit but ensures super smooth operation, minimizing the risk of lost fish due to the elastic 'sticking'. Certanly a product for pole anglers who fish venues with a higher stock of bigger fish.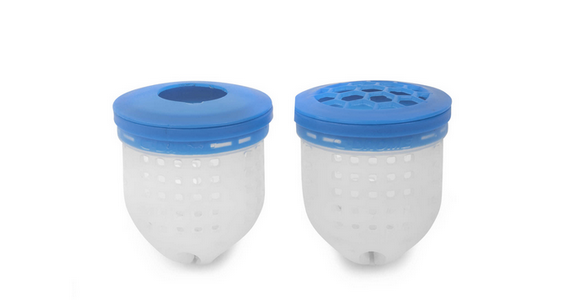 This Cad Pot from Preston is perfect for fishing with paste. The high wall and larger diameter fitting of the cad pot is perfect for potting large balls of paste at any length. These pots also come with two lids, one being a sprinkle lid, and the other being a tapered lid which allows a vairety of bait to be used. The pot also incorporates perforated holes, meaning that any smaller bits of bait of loose feed particles can be released from the pot effortlessly!
Cad pots are a perfect way to bait accurately and consistently. Simply add your loose feed into the cad pot, ship the pole out and then pour it onto your spot.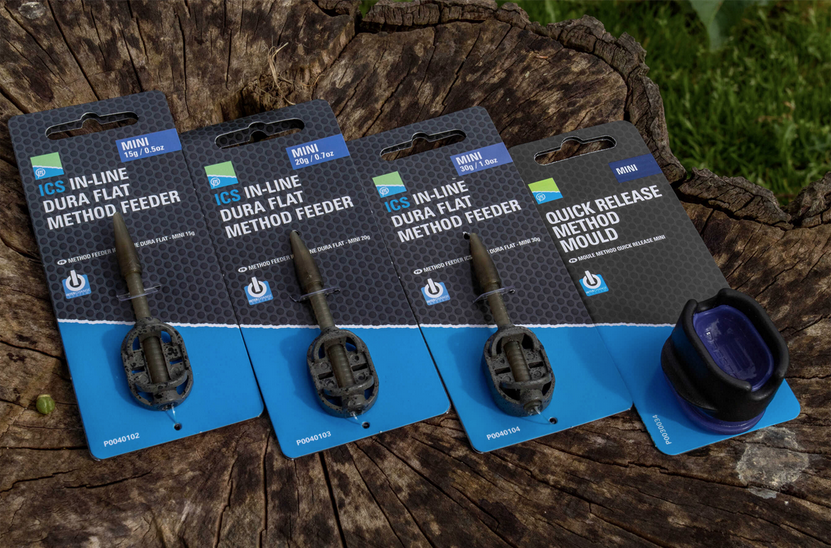 The successful ICS Dura Flat Method Feeders, but in a mini size! These feeders are quite arguablly one of the best method feeders on the market, now available in a mini size which suits venues where the catch rate is high and where regular casting is put into practice. With the ICS range, all the feeders are interchangeable so you can instantly switch from a mini feeder to a small, medium or large without having to bite the line and re rig your rod, a massive time-saving benefit when fishing matches.
As well as the release of the Mini ICS Mini Method Feeder, Preston have also brought out a dedicated feeder mould for these mini feeders. These moulds make loading your feeder easier and quicker than it ever has been, definetly worth looking into if you fish a lot of matches.
Feeder fishing is a super effective way of fishing and is perfect for getting a small parcel of food around your hookbait. There is a wide range of feeders to choice from (the method feeder being the most popular) depending on your angling situation. The method feeder allows you to fish a super short hooklink which gives you stronger hook holds and is perfect for coarse fishing on a stillwater. The groundbait moulds around the feeder and then breaks down off the feeder as the rig lands into the water. The key to fishing a feeder effectively is all about your ground bait mix, if you put too much water in your mix then your groundbait will take longer to break down and you may find your bait falling off the feeder on the cast. However not enough water will stop the bait from sticking to your feeder, meaning that your groundbait will certainly fall off on the cast which will mean you won't have a consistent amount of bait going in on your spot.
Pro Tip: Incorporate liquid additives into your groundbait mix to achieve the strongest flavour.
Here's a product for the Ronnie-Rig users out there. Avid's latest Ronnie Swivels feature an enlarged parallel QC loop to allow for ease of use and strength. The enlarged QC loop even makes attaching the biggest hooks a walk in the park!
The Ronnie Rig is a very effective rig. The swivel allows maxiumum hook movement which gives the rig as much hooking potential as possible and as a result you are almost garenteed to acheive a strong hook-hold from this rig. Built out of very simple components, it is very easy to tie and you have the option to pre-tie the hook section and tie the boom up whilst you are on the bank, allowing you to select a boom which is suited the lake bottom.
The Avid Ronnie Sleeves are a must have for any angler who uses a ronnie rig. Using shrink tube makes it a lot harder to change your hook without ripping the shrink tube, with these ronnie sleeves however, you can take the sleeve off to change the hook before putting the same sleeve back on a fresh, sharp hook! There are two size options with the small being suited for hooks size 8-6 and large being suited for size 4-1 hook sizes.
Another product from Avid being these Super Grip Hook Beads. They are designed specifiacally to grip the hook as much as possible, there's no way even a big hook bait is slipping even when casting far!
The Ronnie rig is a super effective and efficient pop-up and wafter rig, while the D-Rig undoubtedly is among the most popular wafter style presentations. With this considered, Avid have developed this kicker to be capable of being used for both of the rigs. Simply pop the sleeve over your hook, attach your bait screw or micro swivel and then slive the other end of the kicker through the shank of the hook. The enhanced hook bait movement created with a D-Rig sleeve makes the rig more effective, particularly with larger baits. Making the process of constructing the rigs far simpler and faster than ever before. These kickers come in two sizes, small being suitable for hook sizes 10-6, and large being suitable for hook sizes 4-1.
D Rigs are arguably one of the best rigs for wafter presentation. When fishing with wafters, the hook point sits 'cocked' in a position where the point is facing down either towards the lake bed or when sucked in by the carp, towards the fish's lower lip providing a strong hook hold. The main advantage of a D rig is that it can reset itself if the rig is ejected by a fish, meaning that you can be confident that your rig will always be presenting even if you have had a pick up. The D Rig can be used with pop-ups, bottom baits or wafters, making it a very diverse rig.

Avid's Distortion Camo Lite T-shirt is perfect for the summer. It is a very light t-shirt, making it breathable and comftorable during hot temperatures. With minimalistic Avid styling, this T-Shirt certainly looks good whilst on the bank!
As most of us know, Korum Accessory Chairs are one of the most practical on the market, not only do they keep you comfy whilst your fishing, you can get so much attachments like a side tray or rod rests. The new rounded 23mm square leg design makes the chair easier to set up than previous models, which is a massive benefit as it means you can get comfy and start watching the water quicker. S23 is very stable which makes the chair a lot easier to use with the chair accessories and lets face it, nobody likes sitting on an unstable chair. The mattress is made from the highest quality lightweight materials, providing improved breathability and comfort.
Korum's latest rod rests are suited every modern coarse fishing methods. There's a Quiver Rest, V Rest, Security Rest and a Compact Rest. Starting at only £2.99, these are definetly worth looking into if you're in the market for a new basic rod rest!